The Importance of Considering Patients' Values and Opportunities in COVID-19 Vaccination Plans
October 5, 2022
Research by PhRMA Foundation awardees highlights why policymakers should consider the role of patient values and circumstances in how best to reduce disparities in COVID-19 vaccine distribution.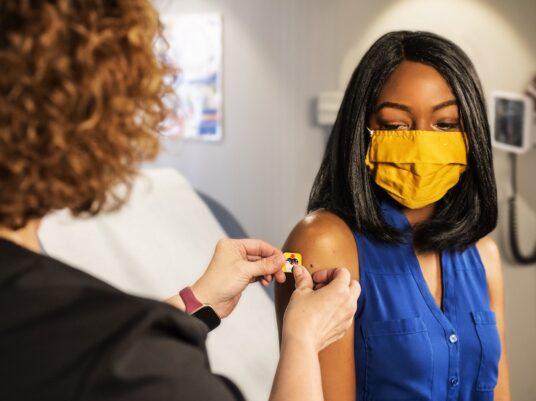 The national dialogue about vaccines became a daily topic of discussion for many Americans during the pandemic. They watched the regulatory decisions of the Food and Drug Administration (FDA) and the public health proclamations of the Centers for Disease Control and Prevention (CDC) with a new interest and urgency. For perhaps the first time, policy questions about vaccine research and eligibility requirements became kitchen-table conversations.
These conversations underscore the challenges that policymakers face in balancing individuals' unique values, beliefs, and circumstances (age, health, occupation, elderly relatives, community characteristics, etc.) with public health goals and clinical evidence. People make decisions about vaccinations and boosters based on what they hear from trusted messengers — such as their doctor, family, and friends — and consideration of their own age and health status.
Unfortunately, the challenges of tapping into these often-informal networks and ensuring that all communities have sufficient access to vaccine clinics have left the public health community at a disadvantage when it comes to getting shots in arms, inadvertently deepening health disparities in the process.
PhRMA Foundation 2021 Challenge Award winners Eline M. van den Broek-Altenburg, PhD, Jamie S. Benson, BA, Adam J. Atherly, PhD, and Stephane Hess, PhD, explored the topic of vaccine hesitancy in the context of health disparities by looking at the effect of individual values and preferences and race on COVID-19 vaccination.
Data from states that reported vaccination by race showed that white individuals were vaccinated at significantly higher rates than Black individuals. Some surmised that this difference was attributable to the prevalence of vaccine-hesitant views within the Black community. van den Broek-Altenburg and her team created a survey to test this hypothesis and found that, in fact, the opposite was true. While 16.8% of white individuals surveyed would not consider a COVID-19 vaccine, only 10.9% of Black individuals felt that way. Why, then, were white individuals being vaccinated at higher rates?
The team then looked at differences in vaccine hesitancy across other subgroups, such as income and level of education. "What this study shows is that Black Americans, holding other factors constant, are more likely to vaccinate than White Americans. Yet other factors are not constant. Vaccine hesitancy varies by many other factors, including age, income, and education," the authors write.
They concluded that the lower actual rates of vaccine hesitancy among Blacks may reflect the higher proportion of Blacks among subgroups with greater vaccine hesitancy (including lower income and lower educated individuals), potentially due to systemic racism. The authors suggested that health care interventions intended to reduce disparities in vaccination rates (such as free COVID-19 vaccinations) can only be successful if other factors leading to vaccine hesitancy in less educated and lower income communities are overcome.
Another recently published study co-authored by Serena Jingchuan Guo, MD, PhD, recipient of a 2022 Faculty Starter Grant in Health Outcomes Research from the PhRMA Foundation, also sought to understand vaccine equity across racial/ethnic groups by comparing access to health care facilities administering vaccines and population demographics.
The research found that health care facilities in counties with a larger percentage of Black residents, in rural areas, and in communities already hardest hit by COVID-19 were less likely to serve as COVID-19 vaccine administration sites during the study timeframe. The researchers concluded that lower vaccination rates among minority populations and in rural areas may have been functions of decreased access, rather than presumed vaccine hesitancy.
While the two studies came to different conclusions, both researchers' work suggests that presumed vaccine hesitancy in the Black community is not the reason for its lower vaccination rates. These studies build on the idea that it is ultimately a summation of patients' values, beliefs, and circumstances that determine whether they will vaccinate.
"To achieve health equity in future public health programs, including the distribution of booster shots, it is crucial that public health authorities review these early COVID-19 vaccine distribution plans to understand how and why these disparities happened," Guo said.
As new COVID-19 boosters (as well as seasonal flu vaccines) roll out this fall, policymakers must consider the role of patient values and circumstances in how best to reduce disparities. This research underscores the importance of broader societal efforts to improve educational opportunities and reduce poverty, which may improve public receptivity to vaccines and other public health interventions across racial groups. It also highlights the importance of ensuring that access to vaccines is convenient for all people, regardless of the demographics of their communities.