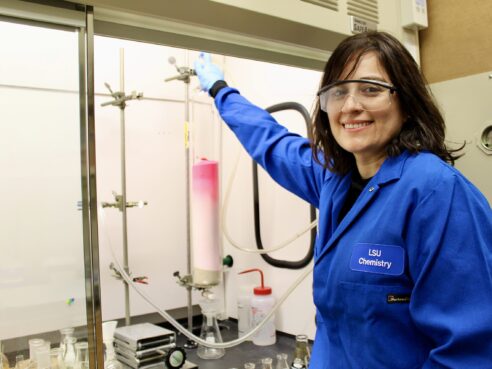 Enhancing the efficacy and safety of medicines through innovative drug delivery
Developing new medicines requires careful study to ensure they are safe and effective. How drugs are administered (e.g., ingestion, injection, inhalation) and how they move through the body to reach their target destination can affect both safety and efficacy. Researchers are exploring new approaches to drug delivery to ensure medicines achieve their intended effects and have fewer side effects, thus improving treatment outcomes and patient quality of life.
The PhRMA Foundation Drug Delivery Program funds researchers studying ways to optimize drug composition, dosage, and delivery to make treatments safer, more effective, and easier to manage for patients.
What is drug delivery?
Drug delivery refers to the process through which a drug reaches its target site in the body, such as a particular organ or tissue, to achieve its desired therapeutic effect. Drug delivery research focuses on finding new ways to ensure patients get the most benefit from their medicines with the fewest side effects. This includes designing systems that help drugs get to the right place in the body and improve how they work and how long they last.
How does drug delivery research impact patient care and outcomes?
Drug delivery innovation can improve the patient experience and clinical outcomes by ensuring that drugs are administered in an optimal way, enabling the patient to receive the full benefit of the medicine. Effective drug delivery can lead to better treatment outcomes, including faster recovery times, improved symptom relief, and reduced risk of complications. For example, some drug delivery systems can target specific cells or tissues in the body, delivering medicines directly to the site of disease to increase treatment effectiveness and reduce the risk of side effects. Drug delivery systems can also be designed to release drugs slowly over time, reducing the need for frequent dosing and helping patients adhere to their treatment regimens.
Drug Delivery Awards
The PhRMA Foundation Drug Delivery Program funds predoctoral students, postdoctoral trainees, and early-career researchers focused on delivering increasingly complex medicines through novel delivery technologies and drug formulation approaches.