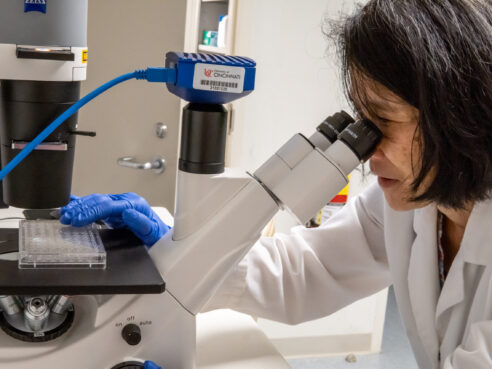 Advancing novel treatment approaches to improve patient health
All people deserve access to innovative medicines that help them live longer, healthier, and more productive lives.
Early scientific research plays a critical role in the discovery of cutting-edge technologies and therapeutic approaches for modern medicines. Yet sometimes this research is so novel and exploratory that researchers struggle to obtain adequate grant funds to support their work.
The PhRMA Foundation's Drug Discovery Targets and Pathways Program funds early-career academic scientists who are pioneering new approaches to drug discovery. We support research projects that have the potential to make a significant impact for patients. By funding drug discovery research by promising young scientists, the Foundation helps accelerate the identification of new therapeutic compounds and modalities while building a talent base to support innovation across the biopharmaceutical industry.
How are new drugs discovered and developed?
Discovering and developing new drugs is a multistage, interdisciplinary process that typically involves significant investments of time and resources from both academic researchers and the biopharmaceutical industry, often over a period of many years.
The earliest stages of drug discovery involve identifying potential molecular targets or pathways in the body that are believed to play a role in a particular disease. Researchers then identify compounds that interact with the targets in question and may offer a therapeutic benefit to patients suffering from the condition. These compounds are rigorously tested in preclinical models to understand how the drug candidate works and what potential side effects might be expected.
Upon completion of preclinical testing, drug sponsors request permission from the U.S. Food and Drug Administration to begin testing the drug in humans. Typically, drugs are tested in three phases of clinical trials prior to drug approval. These trials ensure the drug is safe and effective.
Drug Discovery Awards
The PhRMA Foundation Drug Discovery Targets and Pathways Program funds predoctoral students, postdoctoral trainees, and early-career researchers exploring the innovative application and integration of multiple scientific disciplines to create efficacious, safe, and differentiated treatment options for patients.