Researcher Spotlight: Working to Improve the Efficacy of Immunotherapy for Lung Cancer
May 30, 2023
As a graduate student at Weill Cornell Medicine, Aakanksha Rajiv Kapoor is studying lung cancer, which is the leading cancer killer for women and men in the U.S.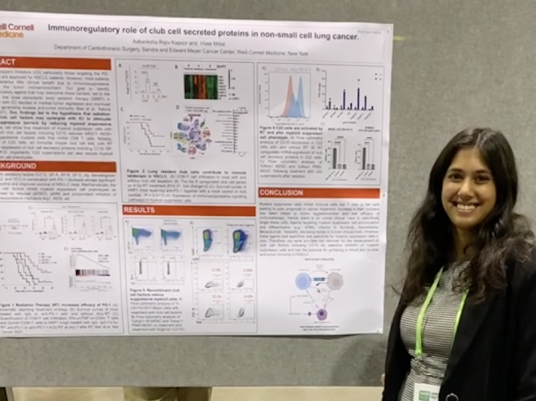 When Aakanksha Rajiv Kapoor considered her future career paths while growing up in India, she was torn between the traditional jobs of doctor or engineer because she enjoyed both science and biology.  
"I did a little bit of research and found this niche field called biotechnology, which wasn't very popular in India," she said. "I took a leap of faith and decided to do that. Since undergrad I've loved it and am still on that path now." 
As a graduate student at Weill Cornell Medicine, Kapoor is pursuing her PhD in Cell and Developmental Biology, and received the 2023 PhRMA Foundation Predoctoral Fellowship in Drug Discovery. She is working in a lab studying lung cancer, which is the leading cancer killer for women and men in the U.S. "We try to find ways to use our immune system to help in the treatment of lung cancer," Kapoor said.  
Immunotherapy, a treatment that uses medicine to activate a patient's immune system to kill cancer cells, has significantly improved outcomes for lung cancer patients, but it only works for about 20% of patients.  
"One reason people don't respond to these therapies is because of immunosuppressive cells that normally, with lung diseases like asthma, prevent your body from overreacting to a stimulus and dampen inflammation, but cancer uses these cells to its advantage," Kapoor explained. "My project is trying to identify proteins that are secreted by cells in our lungs and identify how they are interacting with these immunosuppressive cells. We want to figure out how to then utilize these proteins clinically to improve the efficacy of immunotherapies."
Kapoor said receiving the PhRMA Foundation award was "very impactful" for her. "Being funded by an external organization plays a big role in your future endeavors," she said. "I am very happy that my project aligns with the PhRMA Foundation mission and that they support international students as well." 
Kapoor encouraged young scientists to take a chance and apply for a PhRMA Foundation award. "Get all the help you can from your grad school, your mentor, and your adviser," she said. "What's stood out the most for me is how collaborative science is. … You can learn things quickly because scientists around you are so willing to help."  
For now, Kapoor plans to stay in the cancer immunology space and pursue a postdoctoral fellowship to hone her skills. "In the future, I'm open to either being a scientist in industry or being a research professor," she said.   
Learn more about the PhRMA Foundation's fellowship and grant opportunities. Check out more researcher stories on our blog.