Researcher Spotlight: Exploring a Novel Therapeutic Target for Prostate Cancer
May 21, 2023
Kinza Rizwan of Baylor College of Medicine seeks to optimize small molecule therapies to impede prostate cancer cell proliferation.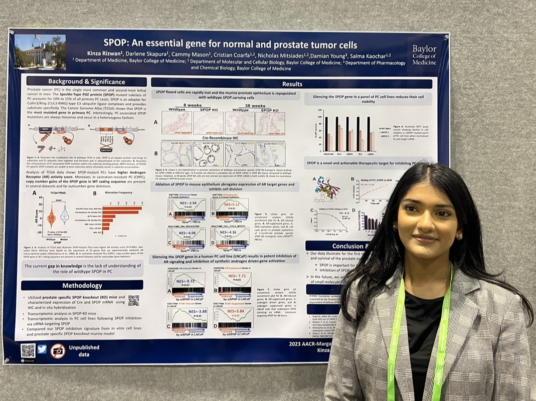 After emigrating from Pakistan to the United States at the age of 12, Kinza Rizwan worked tirelessly to become the first member of her family to graduate high school and attend college.
She earned her a bachelor's degree in chemical engineering at Prairie View A&M University and spent two summers conducting research at Texas A&M University and University of Texas Southwestern Medical Center. Now a graduate student pursuing her PhD in cancer and cell biology at Baylor College of Medicine, Rizwan received the PhRMA Foundation's 2023 Predoctoral Fellowship in Drug Discovery.
"I love doing translational research. I want to be a physician-scientist," she said. "Getting this fellowship perfectly sets me up for that."
Her PhRMA Foundation-funded research project focuses on prostate cancer, the second-leading cause of cancer-related death in men. Rizwan explained that genetic mutations in the Speckle-Type POZ protein (SPOP) gene account for 10% to 15% of prostate cancer cases overall, but about 20% of cases in African American patients. Her research seeks to optimize and develop small molecule inhibitors of SPOP as a potential therapeutic target to impede prostate cancer cell proliferation.
African American men are 1.7 times more likely to be diagnosed with prostate cancer and two times more likely to die from the disease, so Rizwan hopes her research will "provide more equity in prostate cancer treatment for African American men."
Rizwan said she is "beyond grateful" for the PhRMA Foundation support. "It's a very competitive fellowship, so when I did get it, that was all the boost I needed in my research career."
She encouraged other young scientist to apply. Like many researchers, Rizwan said she can be hard on herself, and she was afraid she had wasted her time by applying for the fellowship. "Do not doubt yourself," she said. "There are plenty of people that will tell you what you can't do and what you're not good enough for, so don't let you be the person who tells yourself that."
She also advised seeking out the guidance of mentors. "I wouldn't even be in grad school if it wasn't for my mentors," she said. "They literally sat with me as I applied for graduate schools and helped me every step of the way. It's very important to find a good mentor and continue your relationship with that mentor."
View the list of 2023 award winners.