Researcher Spotlight: Enhancing Natural Compounds to Treat Health Problems
August 17, 2023
Dr. Fatima Rivas, an assistant professor at Louisiana State University, studies chemical compounds found in nature and how they can be altered in the laboratory to treat diseases.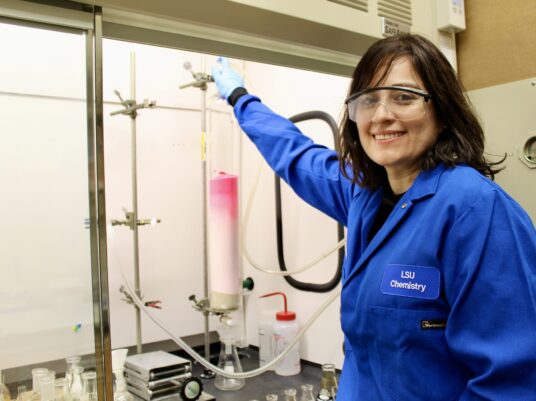 As a child, Fatima Rivas was fascinated by plants and would dissect flowers to try to figure out where their bright, beautiful colors came from. "I was passionate about research before I even knew what it was," she said.
This passion and curiosity eventually led her down the path of becoming an organic chemist, earning her PhD from University of California, San Diego. Now an assistant professor at Louisiana State University, Rivas studies chemical compounds found in nature and how they can be altered in the laboratory to treat diseases.
"There is a long history of the use of natural products like plants as medicines," Rivas said. "It's a worldwide phenomenon." The study of natural products historically used by groups of people to treat health problems is called ethnopharmacology.
Rivas' lab identified the current compounds they are studying by talking with indigenous people about specific plants they use as treatments. Her lab collaborates with two universities in South America to obtain plant extracts and then screens those samples to identify potential compounds for treating diseases such as cancer and metabolic disorders.
Although many naturally occurring chemical compounds have shown therapeutic potential, the human body cannot properly absorb them because they do not dissolve well in water. Rivas received a 2023 PhRMA Foundation Faculty Starter Grant in Drug Delivery for her research to identify chemical modifications that will enable these natural products to dissolve in water, leading to improved uptake in the human body. She plans to test these modified natural products in mouse models to evaluate their capacity to treat health disorders.
"I am extremely excited and grateful for this grant — it will make a big difference," Rivas said. "The moment that you have funding, your life changes."
Obtaining research funding is one of the most difficult challenges for junior faculty, especially for people of color and women. "You are competing with a lot of great scientists and oftentimes individuals who have more resources than you," Rivas said. "Having access to seed money is incredibly important to generate the proof of concept. Then other funding institutions will be more willing to support your endeavors later."
As a professor, Rivas enjoys passing on the skills and knowledge she's acquired to her students. "I didn't foresee the amount of joy that I would get from seeing a student succeed," she said. "It's extremely satisfying to know that you can make an impact."
Looking to the future, Rivas hopes that her lab's compounds will eventually advance to the clinic. "It takes time, and I might not see it in my lifetime, but I have faith and I believe that our compounds are very promising. I am cautiously optimistic."
Learn more about the PhRMA Foundation's fellowship and grant opportunities. Check out more researcher stories on our blog.