Q&A with Jacqueline Plau: Developing a Therapeutic Strategy for Blinding Eye Diseases 
May 23, 2023
Jacqueline Plau is a PhD student at Case Western Reserve University and a 2023 recipient of the PhRMA Foundation's Predoctoral Fellowship in Drug Discovery.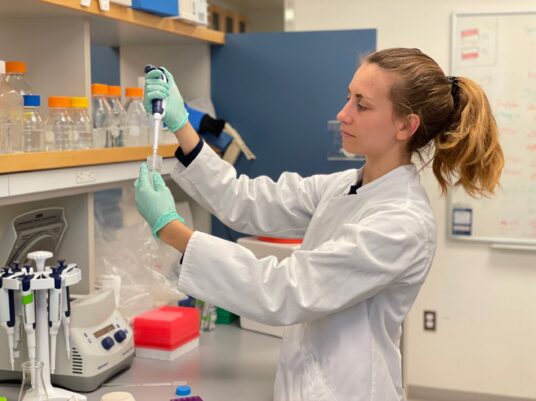 Tell us a bit about yourself and how you became interested in biomedical research.
During the first half of my undergraduate degree in Germany, I never considered working in a laboratory. But when attending my first international conference in Switzerland, the thought of participating in and leading projects excited me, and thus I engaged myself with a project at the Hohenheim Institute of Clinical Nutrition. I aspired to improve my professional English language skills and to gain laboratory experience, so I applied and was accepted for the Summer Undergraduate Research Program offered by the Case Western Reserve University Department of Pharmacology in the United States. By the conclusion of this program, I had familiarized myself with many biomedical research techniques and was convinced that biomedical research was my path. Returning to Hohenheim, I took a full-time semester of research at the Institute of Nutritional Biochemistry and decided to pursue a PhD in biomedical research. 
Briefly describe your PhRMA Foundation-funded research project.
When light hits our eyes, special cells called photoreceptors turn the light into electrical signals that travel to our brains, which turns them into the images we see. Vitamin A plays a crucial role in this visual process. However, sometimes the process goes awry and causes the accumulation of toxic byproducts of Vitamin A in the eye. This is found in common eye diseases such as age-related macular degeneration (AMD) and Stargardt disease and can ultimately lead to blindness. Inhibiting the overproduction of these byproducts may be a potential treatment approach. My project describes a new methodology for controlling Vitamin A byproducts in the eye by developing drug candidates and assessing their potential effects in animal models of human eye diseases.  
What is the potential impact of your research on patients?
My research is to develop a therapeutic strategy for blinding eye diseases. By developing and testing the effects of potential drug candidates in mouse models of retinal degeneration, I will generate solid preclinical data for subsequent clinical trials in humans. Achieving the objectives of this project will advance the therapeutic options for prevalent and currently untreatable retinal diseases. This approach promises effective, safe, and affordable treatment options for patients suffering from currently incurable forms of Stargardt disease or AMD. 
What has surprised you the most in your research journey so far?  
That no matter how much you think you know a protein (or other aspects of your project) and its predicted outcome, the results can still surprise you. Despite having expensive, innovative, and complex tools, it is never quite certain how a biochemical structure or cell line responds in the end. Research can be a constant state of discovering new surprises — some that we find the explanation for after a long journey of tests and some that are seemingly unexplainable. It was very interesting for me to learn to sometimes just accept the fact that I might never know why an experiment did not work, even though I thought it was "bulletproof." And sometimes it's the greatest satisfaction to discover the explanation to something that in my mind did not make sense. 
How will the PhRMA Foundation's support impact your research and your career? 
Due to my status as international PhD student, I am not eligible for most national fellowship opportunities or school-intern training grants. This fellowship is a boost to a very promising project and puts drug discovery research before financial limitations. This fellowship does not only facilitate financial flexibility but also has great significance in empowering me as a researcher in the field of drug discovery. My vision for the field is that highly innovative and promising projects like mine have a chance to be extensively investigated in an academic setting, thereby empowering a new generation of professional researchers. 
What advice would you give to researchers applying for PhRMA Foundation awards?
I am a big believer in using all of one's strengths and weaknesses to be able to succeed. For example, a person who does not extensively plan and might come across as "unorganized" may be able to be more spontaneous and flexible. As a relatively stubborn person, I can be incredibly persistent, which has allowed me to not give up in applying for research fellowships. It's important to know how to best use our traits to our advantage and navigate them.  
What are your future career aspirations? 
My future career goals include a postdoctoral position at a preeminent institution in Europe, where I will be able to apply the theoretical and practical knowledge that I acquired through my extensive training in a laboratory. I would like to use my skill set and experience to move my career in the direction of clinical research, which is why I would like to conduct this project and why I applied for the PhRMA Foundation Predoctoral Fellowship in Drug Discovery. 
Learn more about the PhRMA Foundation's fellowship and grant opportunities. Check out more researcher stories on our blog.