Q&A with FDA Chief Scientist and PhRMA Foundation Alumna Dr. Namandjé Bumpus 
June 20, 2023
In this Q&A, Dr. Namandjé Bumpus discusses how PhRMA Foundation awards impacted her career and her commitment to mentoring the next generation of scientists.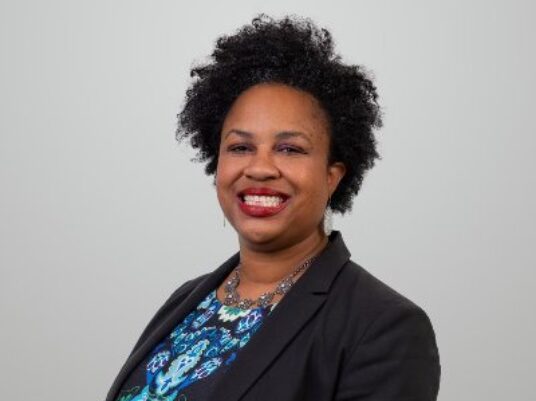 Dr. Namandjé N. Bumpus is approaching her one-year anniversary as Chief Scientist at the Food and Drug Administration (FDA). But long before she was named to this high-profile role, Bumpus received a PhRMA Foundation Predoctoral Fellowship while pursuing her PhD at the University of Michigan. Several years later, she received a PhRMA Foundation Research Starter Grant as she began her career as an assistant professor at the Johns Hopkins University School of Medicine. Bumpus rose through the ranks at Hopkins before moving to FDA and is a member of the National Academy of Medicine, one of the highest honors in the fields of health, science and medicine. Bumpus is the latest Foundation alum to serve at FDA, including Dr. Arthur Hull Hayes Jr. and Dr. Stephen P. Spielberg.  
In this Q&A, Bumpus discusses how the PhRMA Foundation awards impacted her career, her commitment to mentoring the next generation of scientists, her views on what it means to be a leader, and what her FDA role entails.  
What sparked your interest in pursuing a research career? 
My interest in science began around kindergarten and was nurtured with chemistry sets and other educational gifts. Later in elementary school, I wrote a letter to the American Chemical Society asking them what careers were available for chemists, and they responded with brochures and other literature introducing me to a range of opportunities in chemistry. 
I have always been around community activism thanks to my family, so naturally social justice and health equity are at the core of the lens through which I view science. My research was always guided by dedication to public health. I sought to center health equity in my research, and as such, my laboratory worked primarily on HIV pharmacology and toxicology because of the disproportionate impact of HIV on the communities where I lived and worked.  
You received both a PhRMA Foundation Predoctoral Fellowship and a Research Starter Grant. How did these awards impact your career?
Receiving the fellowship as a graduate student gave me the confidence that I could develop scientific ideas into a proposal that leaders in the field could find worthy of pursuit. This experience helped encourage me to become a principal investigator. Additionally, the funding gave me flexibility to explore my ideas in the lab. The Research Starter Grant provided my lab with funding to boost our work and give us momentum. The grant enabled me to perform key experiments and collect data that were the foundation of future major funding for my laboratory. During my time as a faculty member, I was also fortunate to mentor two graduate students and a postdoctoral fellow who received PhRMA Foundation fellowships for work performed in my laboratory.  
Later on in your career, you served as a PhRMA Foundation Scientific Advisory Committee member, helping to review and select awardees. Why do you think it's important to give back by volunteering your time for activities like this?
It has always been important to me to support and recognize scientists, especially those early in their careers, and this is something I do in many ways. PhRMA Foundation fellowships give emerging scientists an opportunity and the freedom to pursue leading-edge science, and it was rewarding to play some role in that. Additionally, I always enjoyed the scientific discussion with the other committee members because those experiences inevitably stretch your thinking in various ways. Importantly, for science to advance we must continually foster and facilitate the development of the next generation of scientists. Volunteering to review fellowship applications provides the chance to do just that.  
What role has mentorship played in your career, both as a mentee and a mentor? 
My mentors provided me with guidance and encouragement that enabled me to develop as a scientist and as a leader. They always challenged me in ways that would allow me to grow and set examples for me. For instance, watching my graduate advisor, Paul Hollenberg, as a department chair inspired me to similarly make a positive impact in the careers of faculty, fellows, staff, and students.  
Being a mentor adds a richness to professional life. You learn a lot about yourself through mentoring others. It is also an honor and a privilege to be trusted by another person and for them to consider you a mentor. I believe that one of the most important roles of a scientific mentor is to help instill confidence in their mentees, since confidence gives a place for identity as a scientist to grow. To me, the excitement and joy I feel in seeing my mentees succeed cannot be matched.  
It is important to remember that a person can be a mentor at any stage. As a scientist, you do not have to be senior in your field to be a mentor. It is something that we can all engage in. We each have things to offer to others. I tell my first grader that he can be a mentor to younger kids and can inspire students in pre-K and kindergarten, for instance, by going and reading a book to them.  
What advice do you have for young researchers?
Identify and engage a team of mentors who will provide constructive criticism and help you to navigate the steps needed to achieve your goals, including concrete guidance about skills to develop and areas to strengthen. Stay true to what you would like to contribute to the world through your life's work, and lead with that. During the tough times, remember all that you have accomplished and where you are trying to go with your career. Don't internalize other people's biases about what you can and cannot accomplish.  
You've held many leadership roles at Johns Hopkins, in professional organizations like the American Society for Pharmacology & Experimental Therapeutics, in your community, and now at the FDA. What drives you to be a leader and what challenges have you faced along the way?
Service to others is central to who I am. That drives me to be a leader. It is important to me that I cultivate opportunities for others, and my leadership roles have provided me with a platform to do so. Being a leader doesn't require holding a certain title in an organization, and actually, one can have a high-level title and not exhibit leadership. For me, being a leader means using the resources available to me in order to facilitate the advancement of those I work with and the organization as a whole. In that context, I have always been particularly interested in utilizing my platform to facilitate the development of the next generation of scientists. Being a leader always presents challenges. For instance, I had to learn to be a department chair while closing and then reopening labs during the pandemic. If leadership is approached as service, then I think the challenges can be readily navigated as they come.  
Why did you decide to transition out of academia and into the role as Chief Scientist at FDA? 
Taking on this position has been a unique and exciting way for me to serve the public through science. As chief scientist at FDA I get to lend my expertise to a very wide scope of science, research, regulatory, and policy issues. I have also always been social justice-oriented, something that public health affects directly, so leading at a public health organization further aligns me with my ethos as a scientist. 
What does the FDA Chief Scientist do and what about this new role excites you the most? 
Many people are familiar with the FDA as a regulatory agency, recognizing products as FDA approved, but there is robust science that supports our regulatory decision-making, and I work to make that science stronger through engaging our centers and offices to develop and further research projects and initiatives and establishing extramural collaborations to augment FDA's scientific work.  
The Office of the Chief Scientist also houses key initiatives and offices including: 
The National Center for Toxicological Research, which conducts basic science research to inform the FDA on drug safety and toxicology. 

 

The Office of Regulatory Science and Innovation, which funds research both internally and externally, and coordinates working groups that connect our scientists with complementary expertise.

The Office of Counterterrorism and Emerging Threats, which has expertise in facilitating the development of medical countermeasures and emergency preparedness. 

The Technology Transfer Program, which uses research partnerships with groups outside of the FDA to ensure that our expertise is available to companies and organizations.

The Office of Laboratory Safety, which ensures a safe working environment for those at the FDA and the surrounding environment.

 

The Office of Scientific Integrity, which ensures sound decision-making at FDA by leading the development of agency-wide policies and procedures related to scientific integrity.

 

The Office of Scientific Professional Development, which manages training programs for students, fellows, trainees, and senior scientists in and outside of the FDA.

 

The Advisory Committee Oversight and Management Staff, which oversees our work to get advice from academicians, practitioners, representatives of consumer organizations and industry, and patients and caregivers through various advisory committees.  

 
Learn more about careers at FDA and the PhRMA Foundation's awards.