Q&A with Dr. Timothy Hohman: Studying the Genetics Behind Resilience in Alzheimer's Disease
June 13, 2022
Dr. Timothy Hohman discusses his Alzheimer's disease research and how it has evolved since receiving a PhRMA Foundation award.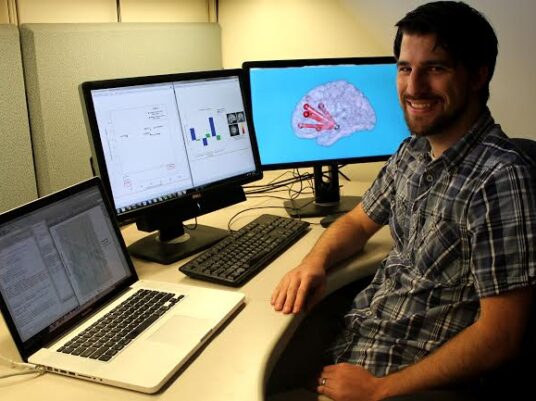 Almost a decade ago, Dr. Timothy Hohman received a PhRMA Foundation Postdoctoral Fellowship in Translational Medicine to study genetic risk factors and neuroimaging biomarkers of Alzheimer's disease. Today, he is an associate professor of neurology, director of the Biomarker Core, and principal investigator of the Computational Neurogenomics Team focused on Alzheimer's Resilience and Sex Differences at Vanderbilt University's Memory and Alzheimer's Center. We spoke with Dr. Hohman about his research and how it has evolved since receiving the Foundation award.
Q: Briefly describe your research related to Alzheimer's disease. 
Dr. Hohman: My work focuses on why some people are able to age well despite having the hallmarks of Alzheimer's disease in their brains. We call this "resilience," and I study the genetic factors that predispose some people toward resilience. 
Q: What do you hope to achieve with your research? Why is it important?  
Dr. Hohman: The goal of my group is to identify a treatment for Alzheimer's disease based on the innate protection of these resilient individuals. Alzheimer's disease is a devastating condition and patients still have very few options to fight back. We want our work to be part of the solution to beating this terrible disease. 
Q: How did the Foundation award impact your research? 
Dr. Hohman: During the Foundation grant, I was beginning to formulate ideas about how we could pool lots of datasets together to enable genetic analysis. The approach I used is called data harmonization, which means that I take data that come from many different places, collected in many different ways, and use statistical tools to put all of that information in the same analytical space. The Foundation provided the start that I needed to demonstrate that harmonization was possible, and that resilience has a genetic basis. This early career support made it possible to begin the transition toward independence and pull together the preliminary data needed for large grants focused on resilience. 
The harmonization approaches that we have leveraged through large collaborations have become the foundation of a very large data harmonization project called the Phenotype Harmonization Consortium for the Alzheimer's Disease Sequencing Project (U24-AG074855). We are harmonizing brain imaging, cognitive, fluid biomarker, risk factor, and neuropathology data to make it possible to study the genetics of Alzheimer's disease risk and resilience. You can read more about the project here, request data here, and read a tweetorial about the consortium here. 
Q: What has surprised you the most in your research so far? 
Dr. Hohman: During the early part of my career, I began exploring sex and gender differences in Alzheimer's disease. I was very surprised by how many sex-specific genetic and molecular effects we observed. I think the future therapeutic landscape in Alzheimer's disease will take into consideration an individual's sex, genetic background, and biomarker profile when selecting the best target for intervention. 
Q: What are the challenges and opportunities you see in the field of Alzheimer's disease research? 
Dr. Hohman: There are many challenges, I think the greatest of which is the clinical and neuropathological heterogeneity in the Alzheimer's disease brain. Each patient has a unique context that plays into the clinical presentation of disease. But that heterogeneity also provides an opportunity. Understanding even a single story of protection in the face of disease can transform our knowledge of disease biology and move the field in a new direction. We just need to harness the heterogeneity to find the patterns of protection that exist in the population already.  
Q: What keeps you motivated and why are you hopeful for the future of Alzheimer's disease research? 
Dr. Hohman: The data, technological, and clinical landscape has massively changed in the past 10 years. It is possible to characterize risk and resilience in much faster and more scalable ways than ever before, biomarkers are becoming more sensitive and more accessible, and the depth of molecular knowledge is growing rapidly. But most importantly, I believe the field has shifted toward transdisciplinary collaboration and has begun to move away from siloed work. I am very confident that there will be enormous breakthroughs in Alzheimer's disease in the next five years as data become more accessible and teams become more open, transparent, and collaborative.  
Q: What advice would you give scientists starting out in their career who want to explore the field of Alzheimer's disease? 
Dr. Hohman: Collaboration is key. Alzheimer's disease is such a multifaceted disease with epidemiological, social, neurobiological, and genetic factors contributing over a very long disease course. To have success, we all must work together and have appropriate humility about the limitations of our approaches and the limitations of our methods and models.