Q&A with Dr. Lydie Debaize: Targeting Drug-Resistant Blood Cancer Cells  
August 22, 2023
Lydie Debaize, PhD, is a postdoctoral trainee at the Dana-Farber Cancer Institute and 2023 recipient of a PhRMA Foundation Postdoctoral Fellowship in Drug Discovery.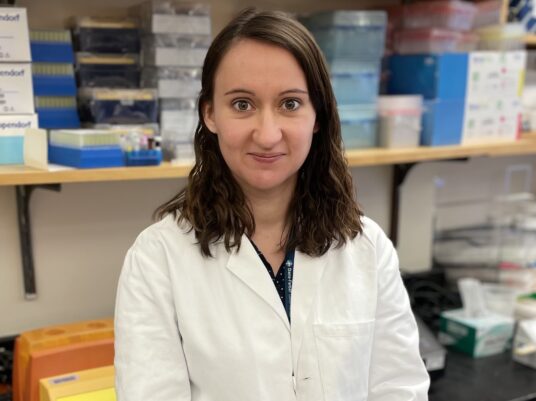 Tell us about yourself and how you became interested in research.
My personal journey into research stemmed from witnessing my brother's battle with blood cancer, driving me to seek answers and pursue a scientific path. His loss fueled my determination to join the fight against blood-related diseases. After completing a master's degree in genomics and biotechnology, I earned a PhD in oncology at the University of Rennes in France, focusing on unraveling the genetic and molecular drivers of childhood leukemia. I then worked as a postdoctoral fellow in the laboratories of Dr. David Weinstock and Dr. Mark Murakami at Dana-Farber Cancer Institute. Today, my unwavering dedication lies in developing novel therapeutic strategies for blood cancers to improve outcomes for patients who are not cured with current therapies. As I continue on this path, I am eager to refine my expertise in drug discovery and development, with the ultimate goal of becoming a compelling preclinical translational scientist.
Briefly describe your PhRMA Foundation-funded research project and its potential impact on patients.
Follicular lymphoma is a cancer that affects white blood cells called lymphocytes that help the body fight infections. While most patients achieve remission after treatment, many will experience cancer recurrence due to rare drug-tolerant persister cells that remain in the body after treatment and cause cancer to regrow. My research aims to identify the vulnerabilities of persister cells and identify new treatment combinations that can kill them. This project will use follicular lymphoma cells from human patients before treatment, during treatment, and after treatment. With collaborators at the Massachusetts Institute of Technology (MIT), we will implement innovative approaches to detect and characterize persister cells and identify potentially targetable features. This work will allow us to nominate a candidate drug and validate it in a preclinical study. The ultimate impact of this work is to transform the way we approach lymphoma therapy by targeting the few remaining cancer cells and thereby convert remissions into cures.
How will the PhRMA Foundation's support impact your research and your career?
The PhRMA Foundation's support will help me transition to independence by providing resources and practical experience to become a leading independent investigator. The PhRMA Foundation fellowship will help me establish expertise in analyzing extremely unique aspects of lymphoma biology, correlating these findings with therapeutic responses, nominating new combination strategies to overcome resistance, and partnering with bioengineers and clinicians to advance translational efforts.
What has surprised you the most in your research journey so far?
The remarkable impact of collaboration. Through our collaboration with several laboratories at Dana-Farber Cancer Institute and the Koch Institute at MIT, we've uncovered innovative ways to detect and characterize rare cancer cells, revealing their unique vulnerabilities. These collaborations have shown me the transformative potential of teamwork.
What has been challenging in your research journey and how did you overcome it?
Resource limitations, such as equipment or funding, posed a challenge in my research journey, especially during my PhD. To overcome this hurdle, I proactively fostered collaborations not only within my institute, but also with neighboring institutions, sharing resources, expertise, and insights. Additionally, I secured a personal grant, which enabled me to submit my manuscript and successfully complete my PhD, underscoring the significant impact of external funding. Now, with invaluable support from the PhRMA Foundation, I am entering a pivotal phase of my career development, centered on enhancing outcomes for lymphoma patients.
What advice would you give to other young researchers applying for PhRMA Foundation awards?
I would underscore the importance of grounding your research proposal in practical implications, emphasizing the immediate relevance of your project, and highlighting how it could impact your field as well as other diseases or models. I would also recommend seeking guidance from mentors and collaborators to refine your proposal, which will enhance your chances of success and also nurture valuable connections.
What are your future career aspirations?
I am dedicated to an academic career in translational research, with a focus on the development of novel therapies for lymphoid malignancies. I hope to be an independent researcher, leading my own research group focused on curing lymphoma.
Learn more about the PhRMA Foundation's fellowship and grant opportunities. Check out more researcher stories on our blog.