PhRMA Foundation Predoctoral Awardee Publishes Cancer Research in Nature
July 11, 2023
2021 PhRMA Foundation Predoctoral Fellow Albert S. Agustinus of Weill Cornell Medicine is lead author on a paper in Nature describing the link between two processes that are hallmarks of advanced, drug-resistant cancers.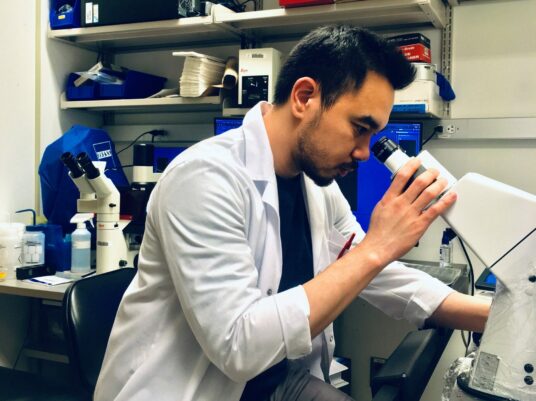 In 2021, Albert S. Agustinus, a PhD candidate at Weill Cornell Medicine, received a PhRMA Foundation Predoctoral Fellowship for his research exploring an unexpected connection between two processes that are hallmarks of advanced, drug-resistant cancers. Two years later, he is now lead author on a paper in Nature describing the link between chromosomal instability and epigenetic alternations.  
Both are major drivers of metastasis, or the spread of cancer cells to another part of the body, which accounts for more than 90% of cancer-related deaths. Chromosomal instability occurs when chromosomes or fragments of chromosomes in cancer cells are unsymmetrically duplicated or lost at a higher rate than normal. Epigenetic alterations are changes in which genes are turned on and off in a cell due to factors other than the genome itself.  
These processes enable cancer cells to better adapt to their surrounding environment due to their increased heterogeneity, which allows them resist treatment, enabling cancer progression and metastasis. "It's hard to eliminate cancer cells 100%," Agustinus said. "The more diversity there is in cancer, the greater the chance of the cells surviving, growing, spreading, and recurring." 
Although chromosomal instability and epigenetic alterations often co-occur in aggressive cancer cases, there was no published work connecting these two events. "I was just thinking there has to be some link, since chromosomes that are lagging in chromosomally unstable cells are isolated in a spatially different environment than their counterparts" Agustinus said. 
Fortunately, he had co-mentors with expertise in each field: Samuel Bakhoum, MD, PhD, whose research group at Memorial Sloan Kettering Cancer Center studies chromosomal instability, and Yael David, PhD, an epigenetics expert at MSK's Sloan Kettering Institute. 
Under their guidance, Agustinus used mouse and human cancer cell lines to unravel the connection and how it causes cancer cells to become more aggressive. "Our research shows that chromosomal instability has another layer of consequences other than genomic heterogeneity. It can also alter how genes are turned on or off in a different manner from one cell to another," he said. "This means cancer cells have another way to diversify themselves so that they can have a better chance to survive treatment." 
It was a long road to publication, Agustinus said. "There are a lot of people that contributed to this publication, and I'm grateful for their expertise and contribution. It takes a village." 
The next step for this research is assessing whether there are therapeutic targets that can be exploited from this discovery to improve cancer treatment. 
"I am really grateful for the funding provided by the PhRMA Foundation," Agustinus said. "It motivated me to pursue this research much further and allowed me to get equipment and materials for the research and writing my thesis." 
Agustinus is still deciding whether to stay in academia or pursue a career in industry once he earns his PhD. "Right now, I want to get some experience in industry to help decide what I want to pursue after graduating," he said. "I would like to do an industry internship to see if I like the environment compared to academia." 
Read the paper in Nature and the press release. Learn more about the researchers that the PhRMA Foundation supports on our blog.