Jonathan's Story: A Passion for Drug Hunting
September 19, 2022
Past PhRMA Foundation awardee Dr. Jonathan Sockolosky personifies the type of researcher that our organization seeks to support.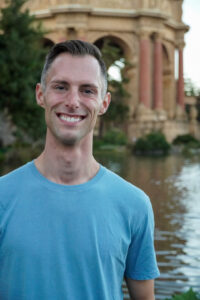 The PhRMA Foundation is more than a grantmaking body for early-career researchers; we are a community working together to advance the frontiers of innovation and discovery. Even years after grantees receive their awards, we are still bonded by a shared passion for advancing drug development.  
I was vividly reminded of this when the Foundation recently caught up with Jonathan Sockolosky, PhD, a 2012 predoctoral awardee in pharmaceutics, a 2016 postdoctoral fellow in translational medicine, and now a member of our scientific advisory committees for drug discovery and translational medicine. Jonathan personifies the type of researcher that our organization seeks to support. 
"I've always wanted to develop a new drug," Jonathan told the Foundation during a recent conversation. "I didn't necessarily see myself getting a PhD, but early in my journey as a protein engineer, I realized that to have a successful career in drug discovery and development, pursuing a doctoral degree would be a critical steppingstone — and one I enjoyed significantly." 
He credited the PhRMA Foundation fellowships with enabling him to pursue his goals while in academia. "I learned how to write and how to submit a grant application, and I had the opportunity to fund my own salary and hire others to work in my lab as a postdoc," he said. "I can't fully quantify the impact these funds had in enabling our lab to be successful and setting me up for success in my subsequent pursuits of developing new drugs."  
During his PhD program and postdoctoral fellowship, Jonathan explored the mechanisms by which cancer can evade the immune system and ways to develop drugs to treat tumors based on this understanding. "It was really rewarding when my postdoc work informed the formation of Synthekine, an engineered cytokine therapeutics company," he said.  
Seeing his research being used toward developing new therapies spurred Jonathan to pursue career opportunities at biopharmaceutical companies, and he has since held positions at Denali Therapeutics, ALX Oncology, and Genentech. "I continue to follow my passion for innovation," he said. "For me the best way to learn is by doing and by working with phenomenal people. That's what drives my career choices." 
Earlier this month, Jonathan took another step on his career path, starting a new role at Curie.Bio, a venture capital firm focused on helping entrepreneurial founders launch viable therapeutics companies. "Whether in academia, industry, or in the VC world, I'm still focused on drug development, but now I'm applying my skills in a new way helping early-stage companies apply scientific principles to drug discovery." 
Like many of our grantees, Jonathan sees an important role for himself in the broader ecosystem of drug discovery and development. "It's important for me to give back to the PhRMA Foundation, both to help continuously fund and inspire the next frontier of scientific innovation, and to ensure that new ideas from early-career researchers have the opportunity to move beyond the idea stage," he said. "The challenges of biomedical science will not be solved with more of the same thinking. Having access to the funds the Foundation provided really helped me develop as a scientist and drug hunter."  
I am so proud to support researchers like Jonathan who have dedicated their lives to advancing new medicines. His story underscores the broad ecosystem behind the drug development process and the driven individuals that move it forward.