An Interview with PhRMA Foundation Chairman Andy Plump
March 14, 2022
New PhRMA Foundation Board Chair Andy Plump, President of R&D at Takeda Pharmaceutical Co., discusses about his vision and enthusiasm for the organization's future.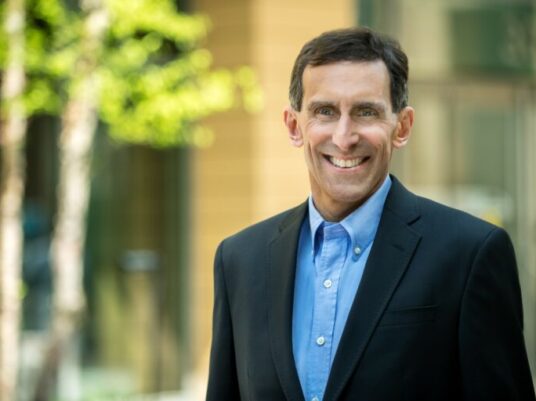 2021 was a year of leadership transition for the PhRMA Foundation, with Amy Miller joining as President and Andy Plump, President, R&D at Takeda Pharmaceutical Co., Ltd., becoming Chairman of the Board of Directors. We talked to Andy to understand his vision and enthusiasm for the organization's future.
You've been on the PhRMA Foundation board since 2015. What has been the most rewarding aspect of your tenure to date? 
For decades, the PhRMA Foundation helped catalyze new fields of science with ardent support for emerging scientific disciplines overlooked from a funding perspective, such as translational medicine and therapeutics, clinical and translational pharmacology, pharmacology/toxicology, and informatics and pharmaceuticals. These disciplines are critical to the drug hunter but often neglected by basic research funding agencies. Over the last several years, we've taken a look at the dynamic healthcare environment and extended our reach into budding areas of research such as health outcomes research, health equity and patient-centered outcomes. By championing some of the challenges our industry faces – such as delivering scientific value across the healthcare ecosystem, increasing access to medicines, and improving patient outcomes – we are helping to modernize drug discovery through the virtuous interface of science and patients.
What areas of PhRMA Foundation-funded science and inquiry do you find most compelling, and why? 
I'm particularly inspired by the work being done by the recipients of the Foundation's Value Assessment  Challenge Awards. Recent awards provided grants related to incorporating patient-centered outcomes in value assessment, being more inclusive of populations that are underrepresented in research and health disparity drivers, and research addressing the shortcomings of assessing value. The Foundation's recently sharpened focus on patient centricity is very important – and core to this is the idea that high-quality and efficient health care should improve the outcomes that matter most to patients and society at large.
Why is it important for the Foundation to fund the careers of young investigators? 
There's an inextricable synergy between industry R&D and academic research. Everything we do in industry fundamentally builds on discoveries made in the academic setting. PhRMA Foundation-funded research helps to close the substantial gap between those discoveries made in academic laboratories and the drug-hunting pursued in the biopharmaceutical industry. We have a unique opportunity to complement and integrate academic and industry science, bridging the white space between academic and applied research. As a secondary gain, we expose a diverse group of talented emerging scientists to the art of drug-hunting, helping them imagine careers beyond academia while creating a pool of potential future biotechnology and biopharmaceutical leaders.
What advice would you offer to the PhRMA Foundation-funded young investigators starting out in their careers? 
Be curious. Always challenge dogma and status quo. Never limit yourself in any way – whether it's in your career aspirations, your intellectual drive, or your ability to make things happen. So much of what we do in this industry is magical and requires us to believe in ourselves and believe that we are capable of what's seemingly impossible. At the early stage of your career, taking risks is expected, so reach high, stretch – and take advantage of grants that foundations like ours provide. And, importantly, promote an inclusive and diverse environment. If we are to serve the health care needs of the diverse patient populations across the globe, we must be inclusive in our ways of working.
What excites you about leading the Foundation into the future? 
I'm excited to work with Foundation President Amy Miller and my fellow board members. Despite the great science we have promoted, the Foundation has largely flown under the radar for half a century. We are the best kept secret in our ecosystem. It's time to tell our story, increase our visibility, and broaden our impact – and I am keen to help. I'm also excited about the opportunity to deploy the Foundation's budget in a way that generates new ways of thinking and helps answer questions in underfunded areas of science. I'm also looking forward to building out diversity in these spaces – both in terms of the way we think, as well as in the diversity of scientists offering these challenges.
Looking ahead, what are some other areas you are passionate about the Foundation participating in?
I'm passionate about the Foundation's mission to help industry better demonstrate the value of our science. Digital technologies are a critical bridge connecting experiments being done at the bench with data generated in the clinic. The work we're supporting will help find new, more scientific, and more quantitative, ways to assess the value of our medicines and, ultimately, the benefits they bring to patients. This work can't be done by industry alone – it cuts across companies, academia, regulators and policymakers and the Foundation is in a great position to connect players from across the ecosystem.