Vladimir Molchanov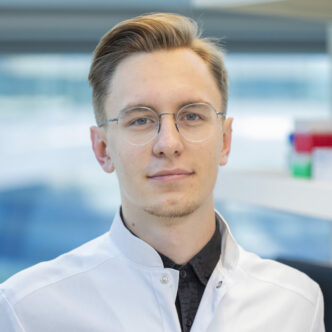 Predoctoral Fellowship in Drug Delivery, 2023
Van Andel Research Institute
Engineering Stem Cells for Targeted Osteoarthritis Therapy
Summary
Osteoarthritis is a disease that causes loss of joint cartilage, resulting in swelling, pain, and loss of joint motion for millions of people worldwide. Most current treatments aim at temporarily relieving these symptoms rather than restoring the lost tissue.
To tackle this problem, researchers are attempting to heal osteoarthritis lesions by generating new cartilage through the transplantation of stem cells. However, clinical trials show that stem cells fail to repair cartilage in patients with osteoarthritis, likely due to poor attachment in the joint and unsuitable conditions for regeneration.
My research aims to overcome these obstacles by engineering stem cells to enable their targeted delivery to damaged cartilage regions and localized production of a drug that can accelerate cartilage regeneration. These engineered stem cells hold great potential for providing many osteoarthritis patients with a minimally invasive and highly effective treatment option.
I am thrilled to receive the PhRMA Foundation Predoctoral Fellowship in Drug Delivery, which will support me in developing targeted cell therapies for the treatment of degenerative diseases and advancing my career as an independent biomedical researcher.