Cynthia Choi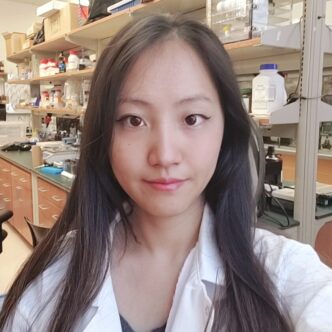 Predoctoral Fellowship in Drug Delivery, 2023
University of Wisconsin
Enabling Immune Response to Cancer with the Help of Low-Dose Radiation Therapy
Summary
Abnormal cell growth in our body is usually eliminated by our immune system. In some cases, these abnormal cells can evade the immune system and develop into cancer tumors. Immunotherapy focuses on stimulating the immune system to recognize the tumors as abnormal cells and naturally destroy them. Unfortunately, some cancer types — known as immunologically "cold" cancers — do not respond to immunotherapy, staying under the radar of the immune system. However, recent studies have shown that low-dose radiation may change these "cold" cancers so that they respond to immunotherapy.
Working in mouse models, I will use artificially manufactured proteins called monoclonal antibodies to carry low-dose radiation to "cold" tumors to turn them more responsive to immunotherapy and study how the immune system is being stimulated by this combinational treatment. My research project aims to understand the inner workings of this combinational treatment, with the hope that it can eventually be used in clinics for human cancer patients.
I am thrilled to receive this PhRMA Foundation award to support my research into a combination of radiation therapy and immunotherapy for cancer treatment. Fellowship opportunities are very few and far between for an international student like myself and being eligible for this award means a lot to me.